In this series of posts, I will be covering my research into choosing a pattern for bust coverage/support for my 1920s wardrobe.
Part 1: Research
Part 2: Available Tutorials and Patterns
Part 3: Other Resources – Pattern Reviews, Books and Films
Part 4: Which Pattern I Chose
Part 5: Supplies (Coming Soon!)
Pattern Reviews
(by pattern date)
1921
While not a review, it is stated in the pattern description that testers recommended it for 34D/DD modern size and an image of it made-up is provided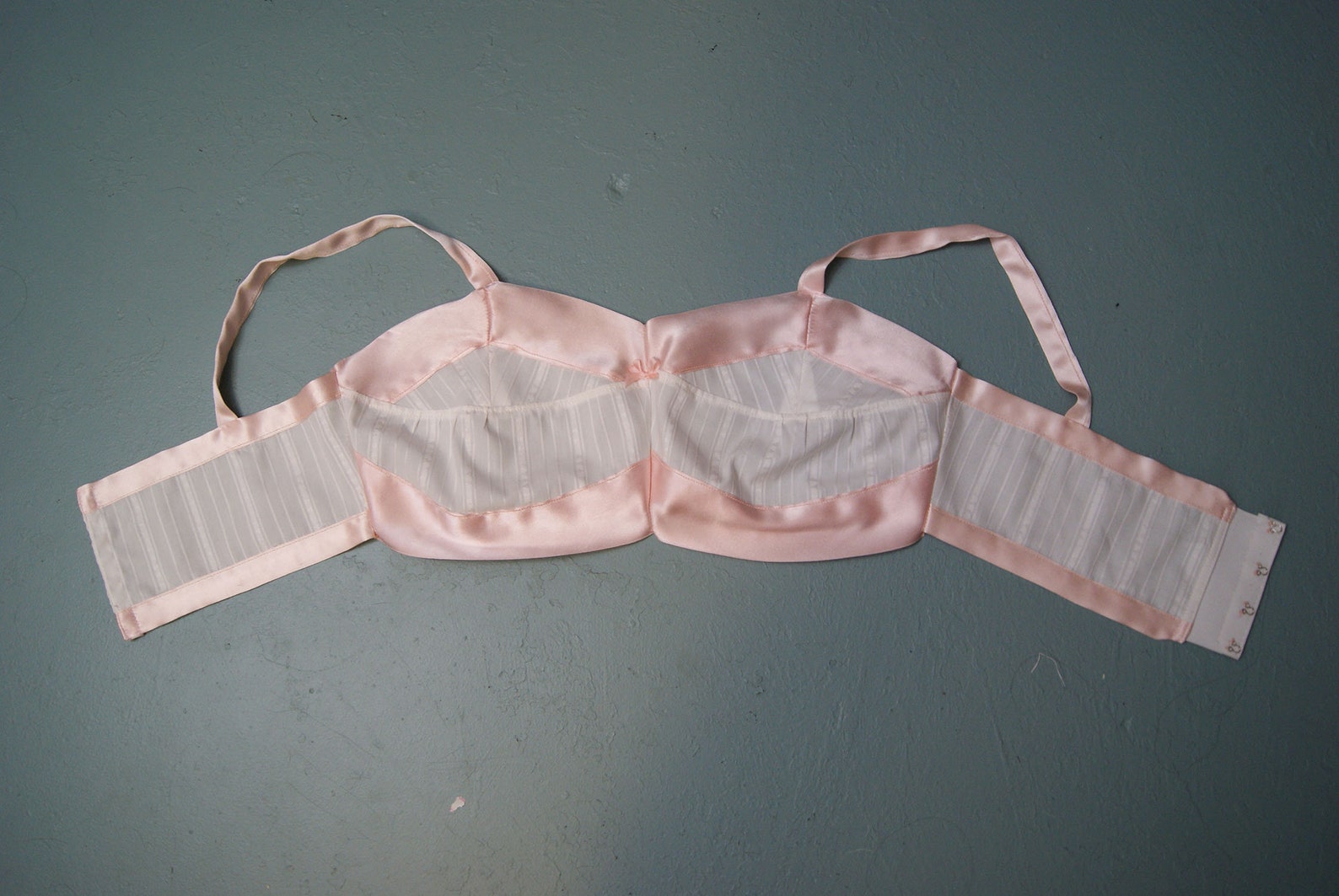 1927
Review by Caroline of the blog Dressed in Time.
Video review by Jess C:
1910s-20s
In this YouTube video, June covers two different patterns. She starts out with the Mrs Depew 2026 corselette cut decides she would prefer a bandeau. Like the other videos in the Tutorials section of this series, she uses the Clark's ONT Home Sewing Reference Book, but her version is quite different. I haven't yet watched it all the way through, so I am not sure if she has a different edition, modified it herself, or if the manual offers more than one type.
---
Sewing Blog Posts
As a Historical Sew Monthly project, Sue, of the blog Yesterdresser, made a 1920s bra/bust reducer drafted from her own pattern. Luckily, she includes some notes on how she drafted it after this original from 1922-23 at the Montgomery County Historical Society in Maryland.
---
Another Historical Sew Fortnightly project is by Jeanette, of the blog The Perfect Touch, made a 1920s brassiere and matching bloomers from a reproduction by a company called Bazaar Patterns, which I have been unable to trace. This is unfortunate, as it looks like one with a slightly more shaping for a mid-sized bust.
---
The book, mentioned in yesterday's post, Vintage Lingerie by Jill Salen has instructions for creating a 1920s/1930s "Kestos"-style bra. This has been made up and reviewed on the blogs Seam Racer and Romancing the Sewn.
Extant Garment Analyses
On The Dreamstress' blog, she examines an early 1920s brassiere/camisole with photos, which may help fill in gaps in instructions and provide inspiration with the fabric choices.
Books
Many of the Woman's Institute of Domestic Arts and Sciences booklets are available from the Internet Archive. I have a few myself, as they were given to me, but it is nice to not have to purchase reproductions (not that I wouldn't!) in order to not handle my originals as often. The Underwear and Lingerie book is divided into two downloadable PDF files: 407A and 407B
407A discusses the making of several bust-confining garments. It begins on page 55 by talking about styles and materials used in brassieres:*
"Styles and Use.—The word brassiere is derived from the French word meaning to bind, to restrain, and such is the object of the garment that has come to be an all-important item of apparel in the wardrobe of many women. The brassiere may have a straight top or a rounded neckline, but in either case its chief purpose is to confine the bust and to give an appearance of firmness and trimness to the figure under the arms and across the back as well. The true brassiere opens in the back or under the arm, although, for those who find it more convenient, a center-front opening is provided. The general use of the brassiere has been brought about by the adoption of the low-bust corset, which requires the wearing of a confining band so that the upper part of the figure will appear trim especially when a one-piece dress is worn. At the same time, however, care must be taken that the brassiere is quite large enough, for there is nothing that makes a woman more uncomfortable than the wearing of too small a garment of this kind. The requisites are ease and firmness, without strain, meaning that the brassiere must be cut from a proper material, carefully fitted, and accurately finished for the proper effect.
Materials.—Very firmly woven materials are required for brassieres. If garments that will give real service are wanted, you will find muslin of good quality to be a very satisfactory fabric, but coutil, which is woven especially for corsets and brassieres and may be had in plain, brocaded, and novelty effects and in various weights, is equally as serviceable and, besides, is more attractive in appearance. Sateen is another cotton fabric that may be employed. For occasional wear, brassieres of firmly woven wash satin, glove silk, taffeta, ribbon, lace, and net are preferred."
*bolding of text is by me
Films
Finally, we can see some of these garments in action in these clips from the 1920s.
I've dug up as many resources as I can find for patterns, tutorials and other resources on creating brassieres/bandeaus/corsets of the 1920s. I will alter this post as new information or patterns become available.