In this series of posts, I will be covering my research into choosing a pattern for bust coverage/support for my 1920s wardrobe.
Part 1: Research
Part 2: Available Tutorials and Patterns
Part 3: Other Resources – Pattern Reviews, Books and Films
Part 4: Which Pattern I Chose
Part 5: Supplies (Coming Soon!)
Tutorials
1921
This video tutorial, which Pathé dates at 1921, is quite clever, but one needs to feel comfortable working with almost no instruction, as the process of creation isn't very thoroughly described. It appears to offer little support or compression, making it a better choice for those with a smaller bust.
1927
This YouTube tutorial walks you through bra-making instructions from the Clark's ONT Home Sewing Reference book. She had purchased this book as a repro PDF but it appears to no longer be available.
This one follows the previous video tutorial, but adjusts it for a fuller bust.
Patterns
Please note that prices and availability are subject to change and may not be up to date. I also have no connection to these companies and have not personally tested any of them.
Mrs. Depew
1910s-1920s
$9.75- 18.75 (PDF or paper). 32-50″ bust. This style looks more 1910s but was used into the 1920s.
1910-1925
$8.75-14.75 (PDF or paper). 34-48″ bust. This style is probably meant to be more flattening.
1927
$8.85-18.75 (PDF or paper). 32-42″ bust. Includes the tap pants pattern!
1929
$4.50 (E-booklet). 40″ or smaller bust. This is not a pattern, but a booklet of instructions on how to draft and sew a bandeau brassiere to your size. Includes instructions for a combination too.
$4.85 (E-booklet). 40″ or smaller bust. This is another booklet of instructions on how to draft and sew a bandeau brassiere to your size. Includes instructions for a camisole and step-ins too.
1910s-1920s
$8.85-16.75 (PDF or paper). 32-30″ bust. Mrs. Depew also offers a 1920s corselette for those who need a bit more support to help smooth their dress line.
Wearing History
1910s
$7.99-14 (PDF or paper). 38″ bust only. Appears to be developed from the same original pattern as the Mrs. Depew 1910s/20s bra above. WH says their pattern is "remastered" from the original, and has not been tested for fit or construction.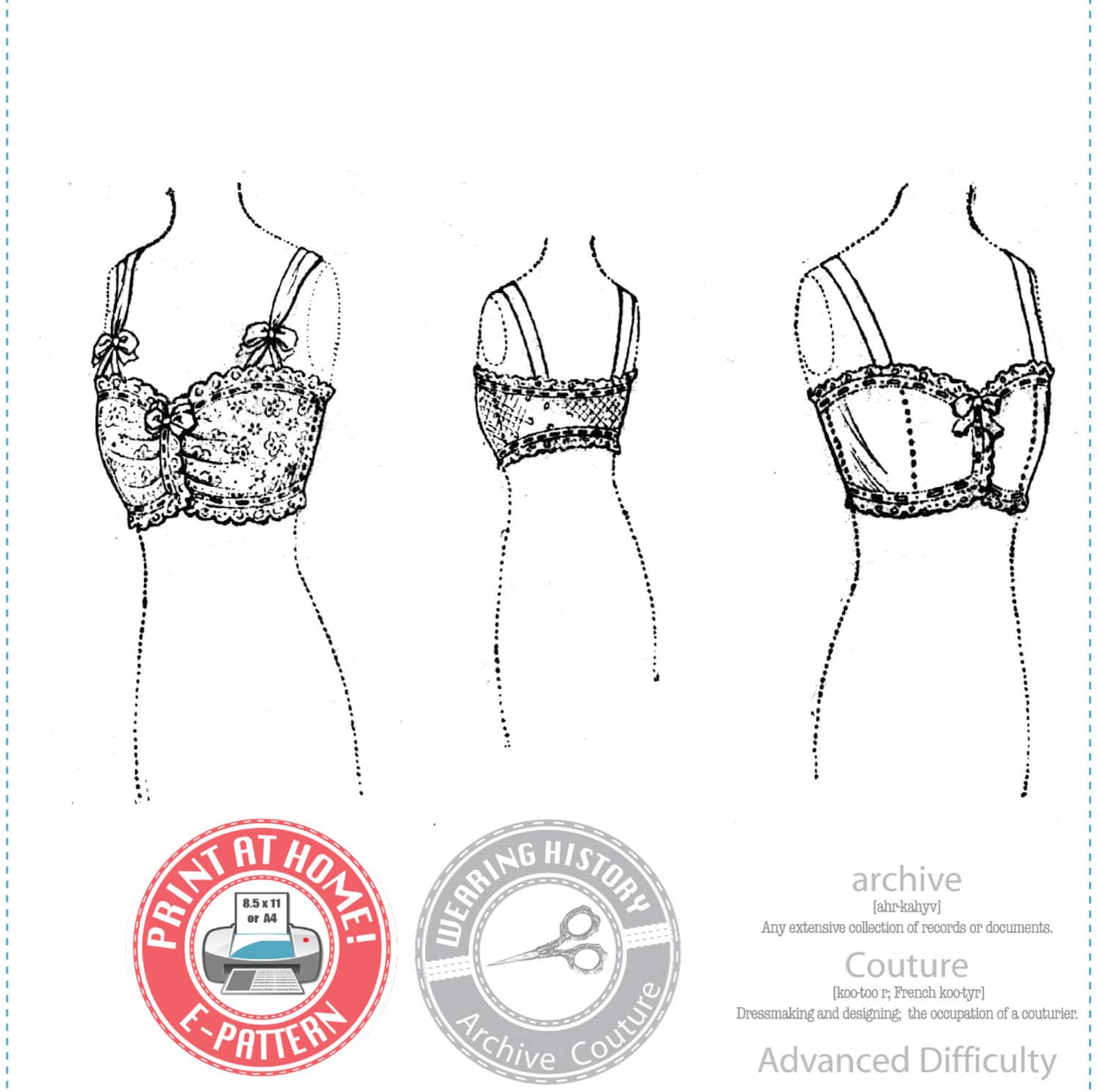 1921
This pattern includes both a brassiere (View A) and compression bandeau (View B). 38″ bust only, presumably the measurement around the fullest part of the bust as she states that testers recommended it for 34D/DD. $6.99 (PDF).
Lady Marlowe
If your size/desired pattern isn't in stock on the main website, try the Etsy store.
1927
$17.80 (paper). 32, 34, 36, 38 or 40″ bust. Includes bloomers pattern.
EvaDress Patterns
1929
$5 (paper). 32″-40″ and 40″-48″ bust. Considered a bust reducer.
Books with Patterns
Woman's Institute
The Woman's Institute booklets were a series of correspondence courses (you received instructional materials through the mail and completed the work at home) for women in the early 20th century (~1910s-30s). The clothing design and construction books often included pattern drafting instructions.
1925
The Underwear and Lingerie booklet (available at the Internet Archive) is divided into two free downloadable PDF files: 407A and 407B.
407A discusses the making of several bust-confining garments, but only 2 can be made without working from a pre-purchased pattern: the plain brassiere (left, pg. 57) and the bandeau corset (right, pg. 63).
Vintage Lingerie by Salen
1920s/1930s
There is a book called Vintage Lingerie by Jill Salen which has instructions for creating a 1920s/1930s "Kestos"-style bra.
I've dug up as many resources as I can find for patterns, tutorials and other resources on creating brassieres/bandeaus/corsets of the 1920s. I will alter this post as new information or patterns become available, but please feel free to leave a comment letting me know of new materials!