For the Historical Sew Monthly July challenge I am making a bodiced petticoat. The challenge's theme is "geometry." I had already started this garment as part of my ongoing thesis research, but I will need it for an event later this month to go under my newest regency gown. Having this type of deadline is an excellent way to motivate myself to finish it!
As anyone who has gone down the rabbit hole of regency-era bodiced petticoats will know, there is very little information to be had. Even the term "bodiced petticoat" is a modern moniker. So I put together here what information I was able to find. I will try to update the post as I come across more information-feel free to comment with links to things I am missing!
Extant Garments
There are plenty of images of modern reproductions of bodiced petticoats, especially now that Emma, Sanditon, and Bridgerton have re-popularized regency costuming. While it is fairly easy to spot the extant ones from the reproductions, the problem is that the flood of websites about the reproductions bury the actual ones when you search online these days.
Please note that the terminology and dating goes by the source, it is not mine, and may not be accurate! Museum identification, especially for historic costume and textiles, is seldom done by someone who specializes in that area, and the information can also simply be outdated.
Non-Bodiced Petticoats
There are also some non-bodiced petticoats that can at least serve as a reference as to how to make the bottom half. Petticoats generally followed the same lines and construction as outer skirts/petticoats, and were a way to recycle an old gown. They were generally of washable, serviceable material for everyday use, although some were silk or wool.
Petticoat, British, ca. 1820 – The Met (2009.300.8047)
Bodiced Petticoats
1795-1818 Half-Bodiced Under Petticoat
(see below for a pattern made from this one!)
Description: "In 2007 this garment was purchased by a private collector from the collection of Tasha Tudor sold by Charles A. Whitaker Auction Company. The half-bodice is made from cotton and does not cover the bossom but criss-crosses in the back which allows the waistband to be adjustable up to an additional 2". The fabric of the skirt is made from a loose weave, sheer muslin with the stripes being made from thicker warp threads. The frills at the bottom are plain shirred fabric which is more finely woven than the skirt fabric. There are pocket slits on each side. The whole skirt is made from three widths of fabric which vary 32" to 34" wide for a total circumference of 96. . . .The original fabric is a sheer, light cotton with self stripe and soft drape. The ruffles are made from unfigured sheer cotton. The half bodice is a lightweight cotton."
Woman's Underdress, American, early 19th c., 49.876
Click here to see image
Worn by Mehetable Stoddard Sumner (Mrs. Benjamin Welles) (1784-1826)
Description: "White high-waisted underdress, drawstrings at neck and waist, narrow shoulder straps, back tie closure, embroidered with large-scale scrolling floral motifs with meandering vine and bands of dots along bottom edge of skirt; hole in skirt at center front."
Petticoat, American, early 19th c., C.I.64.26.3
Petticoat, ca. 1800-1805
This example originally belonged to the Cadbury family, Birmingham Quakers who established their cocoa and chocolate business in 1831.
Description: ". . . .the skirt of the petticoat has an apron front, open some way down the side seams with a drawstring along the top to fasten at the back. Each side of the bodice ties with tapes at the centre front waist, and the bias-cut sleeves are set well back into the small back panels. A narrow belt neatens and defines the high waistline."
Petticoat, 1820-25, Private Collection
Description: "This petticoat has a drop-fronted skirt with ties and a front-closing bodice which suggests maternity-wear. The raised waist and relatively narrow skirt would have fitted neatly beneath the column-like gowns of around 1820-25. . . ."
Patterns and Tutorials
1790s Bodiced Petticoat in The American Duchess Guide to 18th c. Dressmaking
I couldn't find any photos online from the book itself, so I've uploaded these of a rough version I made for a museum display.
1795-1818 Fig Leaf 211 Sheer Petticoat Gown or Half-Bodiced Under Petticoat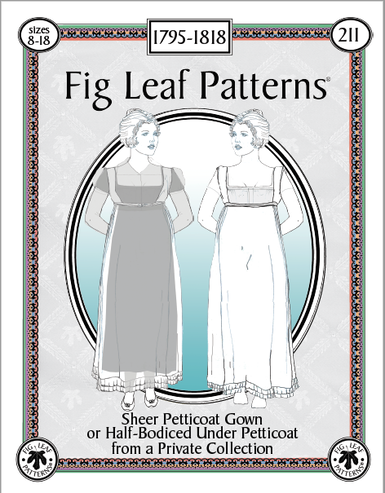 1798-1820 Past Patterns Upper Petticoat Pattern
1800-1825 Laughing Moon Regency Bodiced Petticoat, Bum Roll & Pocket
TwilaTee's Strapped Petticoat Tutorial
Other's Research and Reproductions
I am not going to include every reproduction I come across, only the ones which I found helpful. There are many, many more out there!
References
Davidson, Hilary. Dress in the Age of Jane Austen: Regency Fashion. New Haven: Yale UP, 2019.
"Petticoat with Bodice, About 1810." (Page 86) 'An Agreeable Tyrant': Fashion After the Revolution. Edited by Alden O'Brien. Lanham, MD: Corporate Press and DAR Museum, 2016.