I've just begun my entry for the June HSM challenge and thought I'd go ahead and give some background on how this project came to be. My plan is to finish it by mid-August to wear at my JASNA region's annual retreat. I've splurged and will be staying over for the retreat along with some friends who also do historical costuming, which is at a historic women's camp on a lake. Hopefully it will also be a treat for finishing my thesis!
The theme for the June challenge is "At the Museum: Be inspired by the items and research available in museums and archives." Technically my object of inspiration came from Augusta Auctions, sold as a lot of 2 in 2014 for $3240, however it was originally part of the Suddon-Cleaver Costume Collection, which was an extensive private collection originally put together by Canadian Alan Suddon (1924-2000). The Cleaver part of the name comes from it being transferred to the woman who managed the collection at Ryerson, with the hope of it being accessioned there. Obviously, as it ended up at Augusta Auctions it did not make the cut. I hope that it ended up safely in a museum, but I've not seen it since. I chose the dress on the right in the photo below, specifically for the textile design.
The dress was in a lot of two "sprigged mull dresses." The estimated date for them is 1800-1810. They were further described as follows: "Both white & empire: 1 covered w/ tiny tambour embroidered dots & sprigs, wide hem insert in serpentine foliage & blossom pattern, cross-over bodice, apron front & long sleeves, L 53″, (several holes & mends); 1 covered w/ small boteh-like embroidered motifs, short puff sleeves, back draw-strings, L 53″, (many holes & large mends) both fair."
I actually found the fabric for my dress (below) before finding this extant example. It is already hard to find nice lightweight muslin-like fabrics, but the decorative element was even more intriguing to me. It seemed a good opportunity to have a fabric which looked embroidered without having to do any embroidery.
It was only later that I lucked out and stumbled across the extant gown (actually I lucked out twice as I didn't buy the fabric when I first saw it but JoAnn's re-ordered it this year!) While the boteh-like motifs on the extant gown are more rounded, and are probably truly embroidered, it is a similar enough form and texture to satisfy me.
I was recently able to better identify the fabric I bought after reading the article "Lappet Weaving: A Brief History of a Complicated Fabric" in Piecework Magazine (Summer 2022). It was written by my graduate program's collections manager, and someone who I am lucky to count as a mentor. After reading the article I was successfully able to identify the fabric I bought as a lappet weave, although JoAnn's uses the "wrong" side of the fabric as the right side. According to the article:
Lappet weaving from the early 1800s tends to look like embroidery. Close examination shows that all of the yarns are going in one direction. The lappet warps, called whip threads, are heavier than the yarns for the ground fabric. The ground fabrics are very lightweight and commonly plain or gauze (leno) weave. Looking at the back, one can see the clipped yarn where the extra warp between each of the figures has been removed.
Normally the cut tufts of warp are hidden on the wrong side, but in this case they have been incorporated into the textile design. As a third stroke of luck, I now know that lappet weaving was possible for a dress in the timeframe with which I am working! I don't know that it would have been used for an all-over pattern like this, but it is a start.
I am not following the cut/style of the dress exactly, as I don't have time to work out a pattern in my size that matches it. Instead I am using Black Snail 119, which I have used previously for a sleeveless spencer. It is quite different, especially to anyone who is familiar with the nuances of regency fashion, but for the sake of getting my thesis done on time too, I am fine with the sacrifice!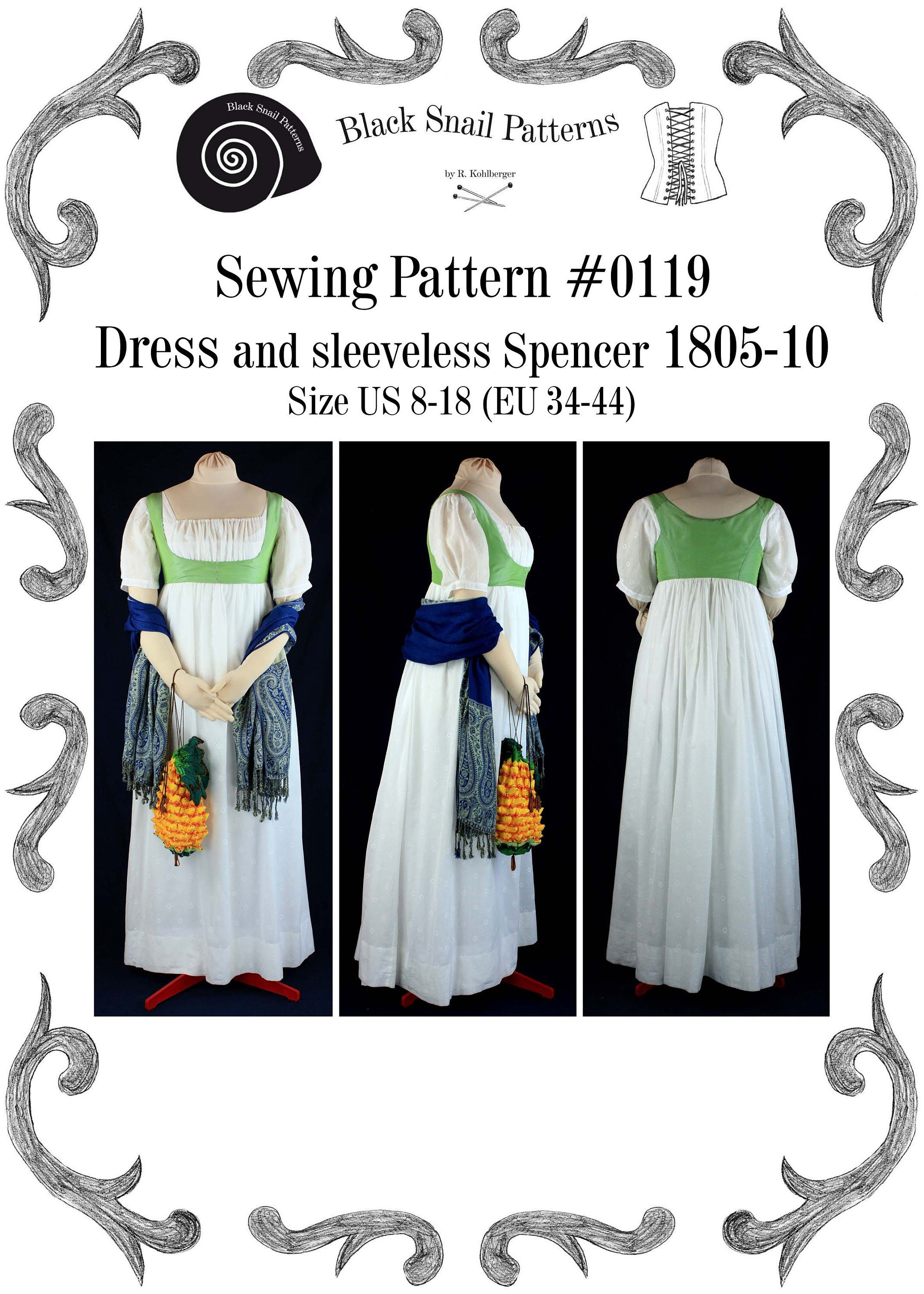 References
Jerome, Susan J. "Lappet Weaving: A Brief History of a Complicated Fabric." Piecework (Summer 2022), 66-69.
Mida, Ingrid and Alexandra Kim. 2018. "Finding New Homes for Dress Collections: The Case Study of the Suddon-Cleaver Collection." Fashion Theory 22 no. 4-5 (February 2018), 485-505. https://www-tandfonline-com.uri.idm.oclc.org/doi/citedby/10.1080/1362704X.2018.1425418?scroll=top&needAccess=true.