My favorite project I completed for the NHS/Audrain exhibition was a toile of a dress for a tableau in the 1920's dressmaker's shop exhibit. The dressmaker, Mollie O'Hara, actually had her shop on the premises which is now the Audrain Museum.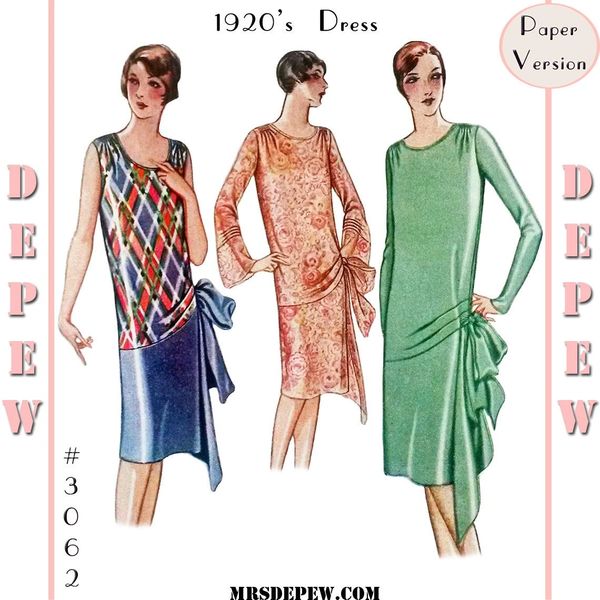 I was limited on time and resources, so while I originally had intended to grade up one of the many free, gridded patterns scanned to Pinterest, I ended up purchasing a PDF pattern from Mrs. Depew. I was surprised how few authentic 1920's reproduction sewing patterns are currently available as PDFs, so I am very grateful to Anna Depew for having an excellent selection! I chose #3062 because it was close in size to the dressform I was given to work with (a 1980's size 12), and had interesting details without being overly complicated. I particularly tried to avoid anything with lots of ruffles (too much time and they don't always work nicely in muslin) or ones that required things like buckles which I didn't have on hand.
I ended up assembling the pattern and doing all the sewing on-site, surrounded by beautiful early 20th century cars! Since I didn't have my trusty paper cutter, assembling the pattern took a lot longer than I thought. I started at about 10 am and finished around 1 pm. Once the cutting and sewing began it was definitely an improvised situation as everyone periodically shuffled to accommodate the other mounting projects and installation processes.
Having puzzled through sewing a late 1920's pattern before (also a McCall's, from my own collection), I knew the directions were going to be sparse, and that there are certain construction conventions for this period which a seamstress would have been expected to know.
I pinned together the dress as I cut it (see below), to see if there were any adjustments I would need to make as I went. It also helped me sort out the order of construction. The dress features shirring at the shoulders, a tucked drape at the left hip, tucked draping on the bell sleeves, a hip bow and drape, and the option of contrasting cuffs. I did the bow/drape and cuffs in silk organza.
The final tableau…we pinned some fabric scraps and a beaded applique to the dress to make it seem more like a work in progress, as if the maker was deciding on fabrics and colors and decoration.
My one disappointment in my work was that to my knowledge, in this period and for several decades after, the standard method of sewing was that a garment was pinned, then basted, and pins removed before sewing it. Unfortunately, the presser foot on this machine no longer lowers, so I felt pinning the sleeve would help it stay in place on the machine. I have strong feelings about accurately representing how needlework was done in the past, but I felt I had to compromise in this case.
Construction and Pattern Notes
Pattern's actual measurements: bust 41″, waist 39 7/8″, hip 42 1/4″.
Seam allowance is 3/8."
The bodice is slightly shaped via curved side seams and the shirring at the shoulders – 20's dresses were not all up-and-down rectangles, there was a lot of subtle shaping.
As to the creating the rows of shirring, I found that if I grabbed the thread tails all at once and gathered them together simultaneously, the gathers looked much better than if I did them individually.
The cuffs and sleeves are supposed to get attached before sewing the sleeve into a tube, but I did this in reverse. In future I would do it the way the instructions suggest.
I'm not as happy about my decision to balance the organza bow with organza cuffs on the sleeves. Perhaps it would look better if there was an arm in it? I do like the tucks on the bell sleeve.
I am curious to see how the tuck/drape across the stomach looks in a softer fabric, when I make one up for myself.
I moved the two sash/bow pieces much closer together (maybe 1″ apart?) than they were marked on the pattern because they tied up a little too short otherwise. I also tacked the bow once it was tied to the skirt to prevent any drooping.
The skirt is actually a wrap design, but it is 1.5″ too wide around in the back, so I pleated out the excess. I hid this under the bow.
The vertical edge of the underwrap does not have any instructions for finishing it, but a bound edge would probably be the cleanest.
Typical of 1920's McCall's patterns, it has a lapped seam where the skirt is attached to the bodice (skirt laps over the bodice), and a deep hem.